14/04/2022
MotoGP rider Miguel Oliveira, portuguese rock band Xutos & Pontapés and football coach André Villas-Boas, join in a unique campaign of solidarity support.
In 1988, Xutos & Pontapé released the album 88, which featured the 'anthems' 'A minha casinha' (My little house) and 'À minha maneira' (My way), songs much appreciated by the KTM rider and which set the tone for this moment of support in 2022 at the time of the Portuguese GP. The fact that Miguel Oliveira competes at home in front of his crowd, as well as his persistence, raised for this idea a image that will be reproduced on a t-shirt for sale, where the amount of 5 Euros will be donated to social solidarity through the association Race for Good, chaired by coach André Villas-Boas.
In the image there are three elements: the nation, the goal and Miguel Oliveira in the form of an 88, an image that dates back to the Xutos & Pontapés album, in 1988 and which will also be reproduced on the helmet that the rider will wear during the weekend in Portimão. This helmet will be drawn and to qualify, you just have to go to the Fan Club Truck-shop, located in the Fan Zone - Riverside Zone of Portimão, and for every 10 euros in purchases, they will offer you a coupon that enables you to participate!
To give more color to the moment, Xutos & Pontapés recorded a clip where Miguel Oliveira contributes with the voice.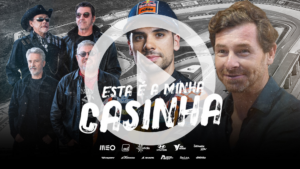 ---